At the origin was the drawn line, and then tools came into play. Charcoal, pigments, inks, brushes, pencils... the tools of creation have multiplied, as have reproduction techniques. From the 1990s on, the development of computer-based technologies has disrupted processes, design and colors with graphic palettes, digital image acquisition, and printing by digital machines.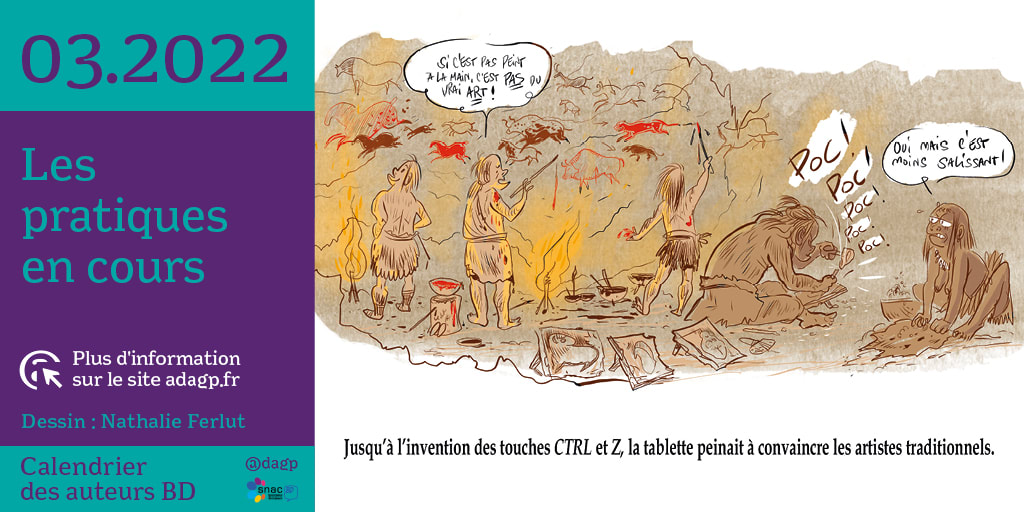 Drawing by Nathalie Ferlut
Moreover, magazines and books now use new virtual works. Since the 2000s, curiosity for the first comic book blogs has been growing and brought avout a new generation of authors. Originating in South Korea, webtoons are particularly well-adapted to reading on mobile screens and attract young comics fans who follow specialized platforms.
New practices are developing, but whether you create with a chisel or a touch pen, whether you read them on a dazibao or a smartphone, the "contents" remain works that are distributed to multiple readers, with the corollary that any distribution deserves compensation. The players in the comic book industry need to be watchful so that this new situation does not unbalance the sector.
See also
April: tax return time
26/04/2022
In France, artists' income is subject to payroll tax or to self-employment income tax.
February: collective rights of artists
01/02/2022
Some copyrights are subject to compulsory collective management by copyright societies and therefore cannot be the subject of individual negotiations or transfer between artists and users.
January: publishing contract
01/01/2022
The publishing contract is the contract by which the creator of a work of authorship or his/her rights-holders transfer to a publisher the right to make or have made copies of the work or to produce it or have it produced in a digital form, with the responsibility of publishing...