February: collective rights of artists
Some copyrights are subject to compulsory collective management by copyright societies and therefore cannot be the subject of individual negotiations or transfer between artists and users.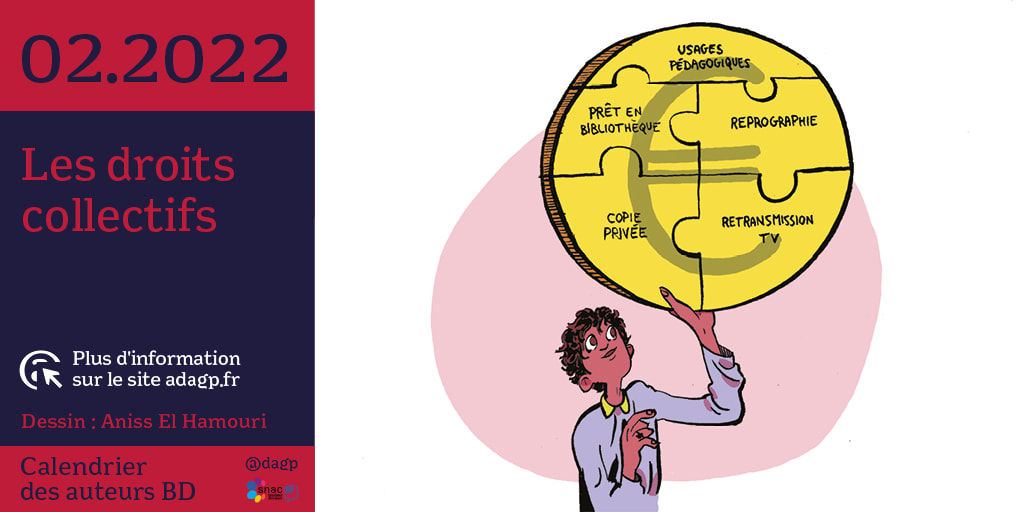 Drawing by Aniss El Hamouri
These are copyrights for:
Private copy, paid by manufacturers of recording media (DVDs, memory sticks, tablets, phones ...).
Broadcasting by cable, satellite and ADSL, applying to visual art works included in programs shown on cable and satellite.
Reprography (photocopy), collected from schools, universities, companies, copy departments... by the French Copy Right Center (CFC).
Educational uses, collected in particular for the use of works in class, reproduction in exams, etc.
Library lending, with compensation for artists-authors provided by law for monographs, comic books and children's books lent in libraries. Sofia (Société Française des Intérêts des Auteurs de l'Ecrit: French Society for the Interests of Writers), authorized to collect these rights, pays them to ADAGP for its members.
NB: Artists-authors who are members of Sofia can also join ADAGP to receive their complementary collective rights (above).
These collective rights are collected and distributed by ADAGP.
In order to receive them, fill in the Press, Book and TV reporting forms for the previous year before February 28, via the Members Area. Also report foreign editions (book and press). ADAGP will then be able to claim your rights for you.
Press notification: Reprography and digital private copy
Book notification: Reprography, digital private copy and lending rights
TV notification: Audiovisual private copy and cable, satellite and ADSL broadcasting.
 
The compensation for educational uses does not require any notification, you will automatically receive your share by joining ADAGP.
See also
April: tax return time
26/04/2022
In France, artists' income is subject to payroll tax or to self-employment income tax.
March: current practices
01/03/2022
At the origin was the drawn line, and then tools came into play. Charcoal, pigments, inks, brushes, pencils... the tools of creation have multiplied, as have reproduction techniques. From the 1990s on, the development of computer-based technologies has disrupted processes, design and colors with graphic palettes, digital image acquisition, and...
January: publishing contract
01/01/2022
The publishing contract is the contract by which the creator of a work of authorship or his/her rights-holders transfer to a publisher the right to make or have made copies of the work or to produce it or have it produced in a digital form, with the responsibility of publishing...