Revelation Design 2020 rewards 2 students from the School of Decorative Arts in Paris.
The ADAGP / École des Arts Décoratifs de Paris Design Revelation was awarded to Simon Chaouat and Souleimen Midouni for their "MEGA" diploma project.
In 2020, in partnership with the Paris School of Decorative Arts, ADAGP rewards a young talent in the disciplinary field of Design, selected from final year students.
The jury, chaired by Sylvie Debré-Huerre (beneficiary of Olivier Debré) and composed of Patrick Jouin (artist designer), Jean-Christophe Camuset (IDEAT web editor), Samuel Hackwill (Revelation Design 2017 winner) and Constance Rubini (director of the Museum of Decorative Arts and Design in Bordeaux) choose to distinguish
Simon Chaouat and Souleimen Midouni
for their diploma project
"MEGA".
The two designers have imagined a mobile platform for the production of ceramic objects adaptable onto construction sites in order to exploit the clay layers during the excavation and earthworks phase.
The jurors praised "a project which brings back the obvious. By exploiting the raw materials directly of a construction site, this collective expresses a real environmental and technical commitment, which attests to a designer's practice in touch with the most important and present issues. "
The collective will receive an endowment of 5,000 euros and will be honored in a dedicated presentation on the walls of ADAGP. The two artists will also benefit from a portrait filmed and broadcast by Arte.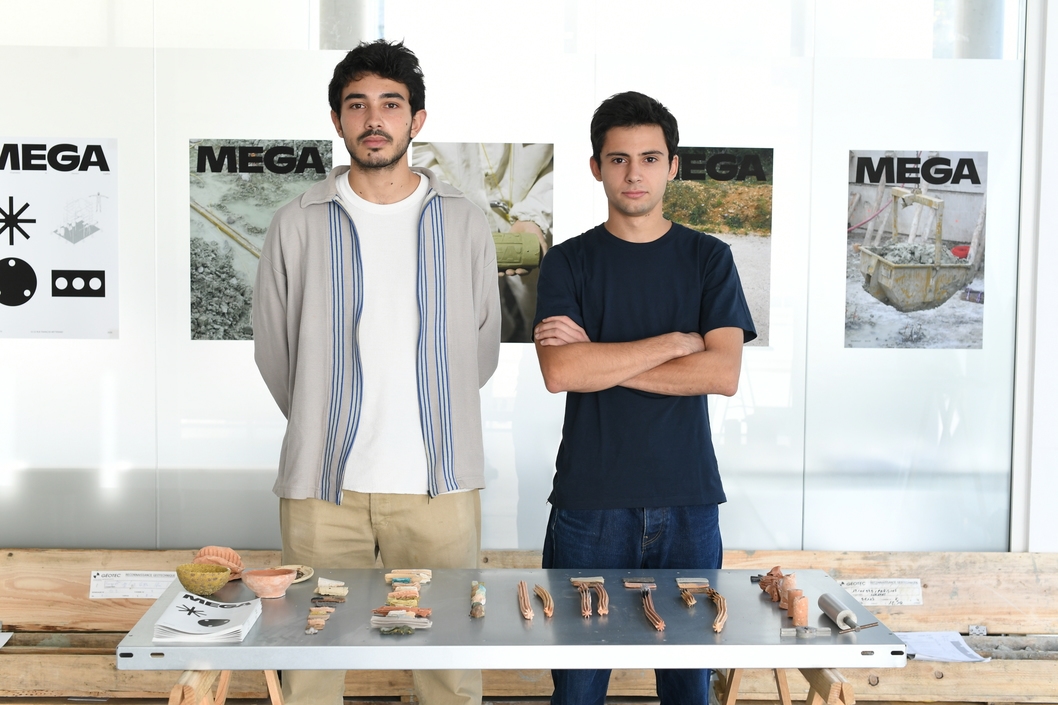 Simon Chaouat et Souleimen Midouni présentant leur projet MEGA . Crédit photo : Béryl Libault
Follow us !