France Créative and EY have released the 2nd Economic overview of Culture and Creation in France.This overview underlines the contribution of cultural and creative industries to economic growth and job creation in France.
The ten sectors analysed by EY (Visual arts, Music, Performing arts, Film, TV, Radio, Gaming, Books, Newspapers and Magazines, Advertising) represented 83.6 billion euros of revenue and 1.3 million jobs in 2013.
Since the first study published in October 2013 and despite the crisis affecting some activities, the revenues of the ten sectors studied increased by 1.2%, a rate superior to the rest of the French economy (+0.9% on the same period).
Visual and graphic arts confirm their place of first cultural employer
With more than 300 000 jobs, visual and graphic arts remain leaders in terms of cultural employment, with a panel of diverse actors: artists, photographers, art dealers, museums, and design industry architects. In 2013, the visual arts alone accounted for 21.4 billion euros of revenue over 25% of the total income of the ten sectors combined.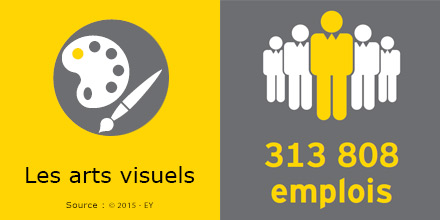 The Visual and Graphic Arts, a showcase of France abroad
With its rich artistic heritage and its events with an international dimension (FIAC, Rencontre Internationale d'Arles, Biennale Internationale Design Saint-Etienne...), France confirms its fourth place on the international art market and consolidated its second place Europe.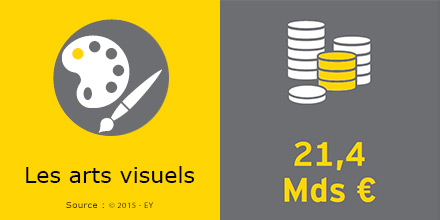 Finally, the study highlights a major issue: the allocation of value between traditional stakeholders, producers of creative content and digital media.
Marie-Anne Ferry Fall, Director General of ADAGP, points out that "The first place in the visual arts confirms the nature of this sector, which is not an industry in itself, but an extensive and dense network of small entities (artists, art centers, galleries ...) both fragile but incredibly dynamic. More than ever, the decisions-makers should pay particular attention to this sector. "
Press Contact:
Coralie de La Martinière - 01.73.79.56.41
coralie.delamartiniere@adagp.fr
Additional Information: