The First Global Map of Cultural and Creative Industries was released at a press conference at UNESCO in the presence of the Director General of the institution, Irina Bokova and Jean-Michelle Jarre, composer, President of CISAC
This study by EY, commissioned by CISAC, the International Confederation of Society of Authors and Composers, studying eleven sectors of culture and creativity as 
dvertising, architecture, books, gaming, movies, music, newspapers/magazines, performing arts, radio, television and visual arts
. T
The study shows that the cultural and creative sectors represent 2,250 billion $US of revenue, exceeding the level of income of the telecommunications sectors. Visual arts in turn represent more than $ 391 billion.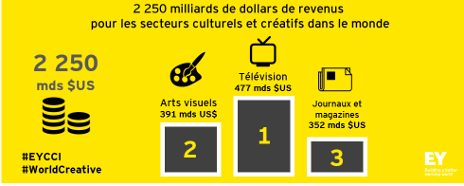 The eleven sectors employ 29.5 million people or 1% of the global workforce, exceeding the number of jobs in the automotive industry in Europe, Japan and the United States. Visual arts, are once again in terms of cultural leauders jobs with more than 6.5 million jobs in the world.

This study confirms that creative works are a key driver of the global economy.