CISAC publishes its global perceptions report for 2019
In 2019, global collections will exceed 10 billion euros and France becomes the first country to contribute to the collection of rights for the visual arts! CISAC predicts a sharp decline in these sources of income for 2020.
According to the 2019 World Perceptions Report published on October 28, 2020 by CISAC (International Confederation of Societies of Authors and Composers), the rights collected worldwide for creators of all repertoires - music, audiovisual, visual arts , performing arts and literature - reach a record figure of 10.10 billion euros in 2019.
2020 and COVID-19
A figure which should nevertheless show a very sharp drop in 2020 because of the COVID-19 pandemic. Most authors' societies foresee a drop in collections of 10 to 40% and available data suggests a worldwide decline of around 20 to 35%, or 2 to 3.5 billion euros in losses in total.

Support visual artists "in this dark time"
Faced with the drop in income for visual artists in 2020, authors' societies quickly mobilized to provide them with financial support and are seeking help from the public authorities.
In France, ADAGP continued to distribute the fees due and informed its members about possible aid. It has thus contributed around 750,000 euros to an emergency fund for the National Center for Plastic Arts (Cnap) and the National Book Center (CNL). ADAGP also called for the attention of public authorities to the need for a support system for artists, better protection of their exhibited works and a strengthening of their negotiating power with the major digital service providers.
The key figures of the visual arts
165 million euros of worldwide collections for the visual arts
In 2019, collections for the visual arts declined slightly (-1.9% compared to 2018) due to a 13.8% drop in reprography rights.

Over 90% of visual arts revenues collected in Western Europe.
In 2019, France is ahead of Germany and the United Kingdom for the first time in the ranking of contributing countries with regard to the visual arts and thus participates in more than 20% of global collections.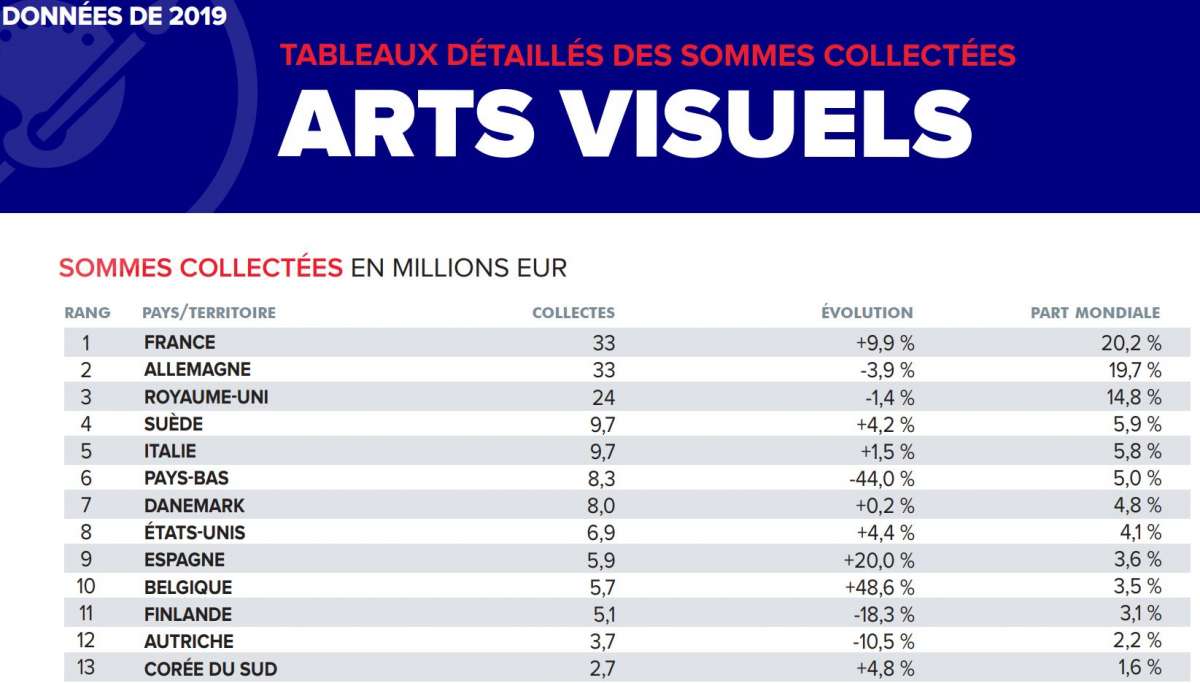 Resale rights and Reprography: primary sources of income for artists
The resale right becomes the main source of income with 28.2% of collections. This essential source of income for visual artists is, however, limited by the lack of recognition of this right in many countries.
Reprography falls to second place but accounts for over a quarter of perceptions for the visual arts.
Reproduction generates 14% of total collections while TV and radio revenues and private copying represent around 9% each.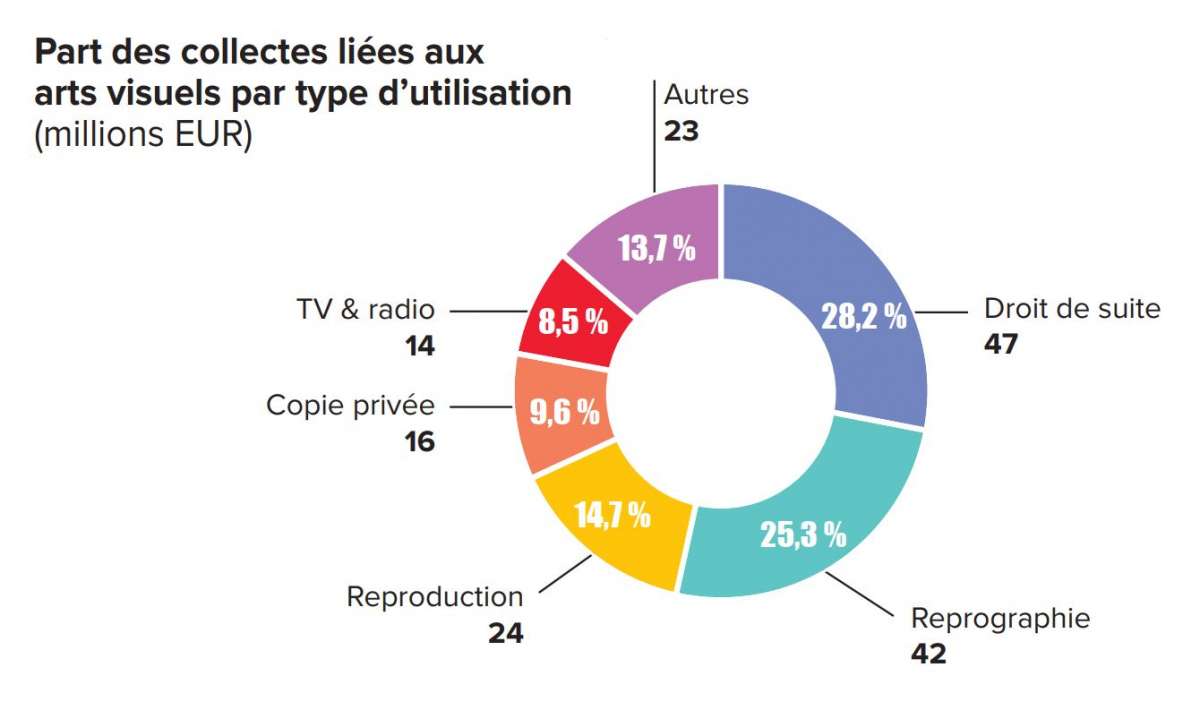 Disadvantaged by their weak position in negotiations with digital platforms, visual artists are vastly underpaid for online exploitation. In 2020, this situation makes them particularly vulnerable to the impact of the COVID-19 crisis. Despite an increase of 24.6% in 2019, the rights generated by the use of works of visual art on digital platforms represent only 3.4% of collections in this directory.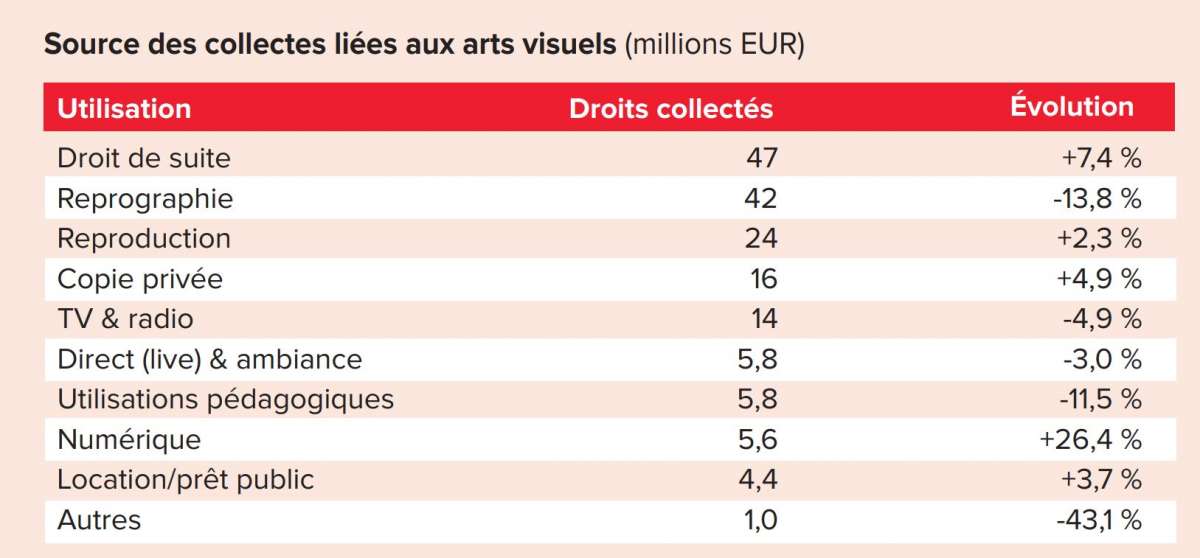 Companies are striving to improve tariffs and fight to strengthen rights through legislation like the European Copyright Directive. They also improve the tracking of works thanks to the Automated Image Recognition (AIR), a tool that involves CISAC, ADAGP and other companies.
Discover AIR
To stay informed about ADAGP, follow us on social networks!