THE 2018 ADAGP COMIC BOOK REVELATION WAS AWARDED TO ANISS EL HAMOURI
ADAGP and Quai des Bulles, the Comic Festival of Saint-Malo, are joining for the third year around the Revelation of the ADAGP / Quai des Bulles which aims to promote and develop encourage the work of young comic writers
The Comic Revelation rewards a complete author (script + drawing), working or residing in Europe or Switzerland, who published a maximum of three albums, including one between June 1, 2017 and May 31, 2018.
A sum of 5.000 euros (without condition of use) and a portrait filmed and diffused on the  Arte website, constitutes the endowment of this price.
A jury of professionals co-chaired by artists Philippe Ramette and Elizabeth Garouste, and composed of Pili Munoz (director of the House of Authors of the International City of Comics and Image - Angoulême), Etienne Davodeau (author and member of Quai des Bulles), Néjib (author and laureate 2016), Robin Cousin (author and laureate 2017), and Jean-Christophe Ogier (journalist), nominated:
Aniss El Hamouri for Comme un frisson
published in September 2017 by Vide Cocagne.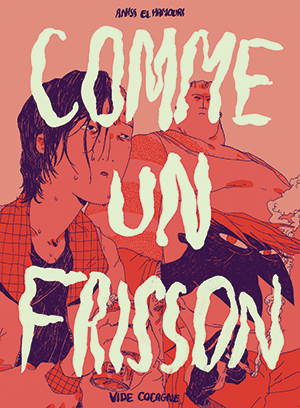 The jury praised this "contemporary story where the relationship to violence is treated with intelligence and energy. All characters are embodied, complex. It is a very accurate portrait of what some young adults can experience today. The lively feature of Aniss El Hamouri effectively illustrates this drift from fragility to violence".
Aniss El Hamouri will receive its award on October 13th at the opening of the Quai des Bulles Festival.
It will be again honored during the great evening of the Revelations of the ADAGP, organized at Centquatre - Paris, in January 2019.